At Denovo, we're committed to action and adventure, to fun and friendship. We believe that children should form a lifelong love of bikes and we want to encourage everybody to get involved.

We aim to be the benchmark bike brand for quality, mainstream products that appeal to young cyclists of all cultures, ages, and backgrounds. We create innovative, robust bikes which surpass the best-in-class safety standards.

Designed with age in mind, Denovo bikes' lightweight alloy frames and relaxed riding position ensure children have fun for longer!

Childrens' bikes that perform like their grown-up counterparts. Every ride, every day.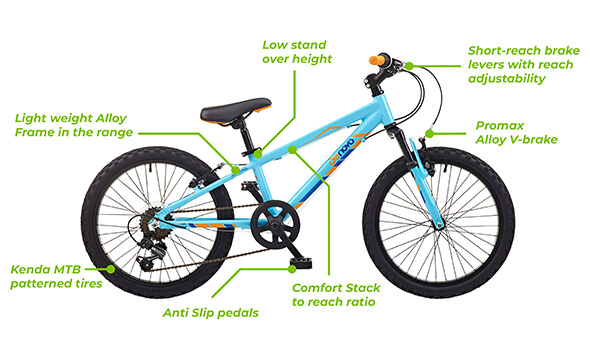 Safety is paramount with bikes and it's just the same with any children's bike along with durability and flexibility and so we created Denovo. 
Denovo is our range of kids bikes, a bright and colourful range with excellent build quality and lightweight frames for easy manoeuvrability.
The all-terrain tyres are suited for all surfaces and all models feature anti-slip pedals and powerful braking. The quick release seat post for easy height adjustment and short brake levers make for a flexible children's bike.
VIEW ALL